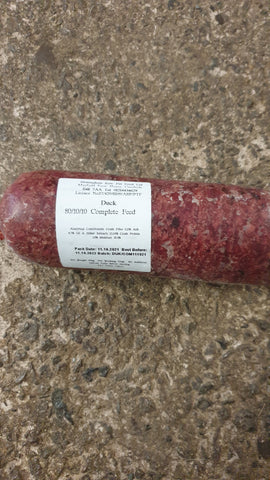 Raw Minced DUCK Complete 80/10/10 Birmingham Raw Pet Foods 454g
Minced Duck frozen pack.
Minced Duck:
Minced Duck in the approximate ratio of 10% bone, 10% offal and 80% muscle meat. 
Net Weight 454g (per chub)
Our products have NO artificial additives added
Analytical Constituents: Crude Fibre 0.2%, Ash 4.7%, Oil A (Ether Extract) 15.16%, Crude Protein 16%, Moisture 35.3%
Ingredients: Duck, bone, lamb offal
Processed and Packaged in the UK. 
Not intended for human consumption

.
---
We Also Recommend