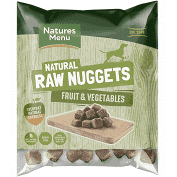 NM VEGGIE BOOST Nuggets 1KG sku nmnvfb
A blend of nutritious fruits and vegetables including peas, carrots, and antioxidant-rich blueberries, seaweed and spinach.
The perfect complement to the Just Meat ranges and for those that choose to prepare homemade raw meals.

Fruit and vegetables may make up 20% of your dog's raw diet, along with 20% non-starchy grain such as brown rice and 60% meat. To give a grain free diet you can up the meat content to 80%.
154 kcal/100g

Due to this being a natural product, colour, texture and appearance may vary from batch to batch due to seasonal variations. 



Composition
Peas (30%), Carrots (30%), Swede (30%), Apple(5%), Blueberries (3%), Seaweed (1%), Spinach (1%)
Analytical constituents
Protein (9.2%), Crude Oils & Fats (1.3%), Crude Ash (2.1%), Crude Fibres (2.3%), Moisture (53.6%).
154 kcal/100g